Stephen Phillips MP visits Sleaford REP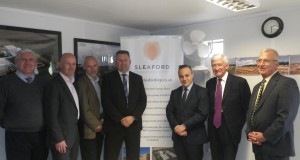 Sleaford & North Hykeham MP Stephen Phillips recently visited the new Sleaford Renewable Energy Plant as it nears its completion of its construction phase. During his visit Stephen was given a presentation about how the Plant will operate from the straw coming on site to the generation of electricity and heat.
He was then given a tour of the site, being joined by local Councillors from the Community Liaison Panel, and met with constituents who have recently become employed at the Plant as it prepares to become operational.
Stephen Phillips MP said of his visit:
"The straw-fired generation capacity which this major investment will provide is something of which I have been hugely supportive. The technology is largely carbon neutral and will ensure security of supply for nearly every home in the constituency, as well as providing local jobs and welcome extra income for our farmers."
Peter Dickson, Partner of Glennmont Partners and Chairman of Eco2 Lins who owns the Plant, said of Mr Phillips' visit: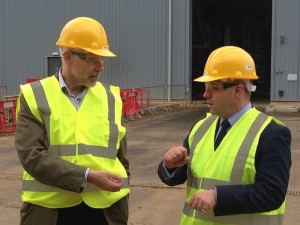 'We were delighted to welcome Stephen to the Plant as it nears the final stages of construction. As well as showing him how it will operate, we outlined how the Plant will benefit the local community and local businesses including community funding and free surplus heat to local public buildings.
The Plant represents a significant investment for us in the UK renewables sector. I am pleased to announce that the Plant is ahead of schedule and is expected to become fully operational early next  year.'
Pictured Top (left to right): Darren Williams (Commercial Director, Eco2), David McDonald (Operations Director, Eco2), Peter Dickson (Partner/Technical Director, Glennmont Partners who finance the Plant), Cllr Richard Wright (Chair, Sleaford REP Community Liaison Panel), Stephen Phillips MP, Cllr David Dickinson (Member of the Sleaford REP Community Liaison Panel), and Cllr Rob Hippworth (Vice-Chair, Sleaford REP Community Liaison Panel).