NFU officials visit Sleaford REP
NFU officials and members recently visited Sleaford REP to see first-hand how agricultural biomass is turned into heat and electric power. On a tour of the site, the visitors watched the automatic straw bale sampling and unloading gantry in operation in one of the two storage sheds, and learned the distinction between fly ash (rich in P and K, suitable for land spreading) and bottom ash (too granular for land spreading, sold as aggregates).
The Plant and the NFU have been working closely together to ensure the agriculture industry, especially local farmers, benefit as much as possible from providing the fuel source Sleaford REP needs. This not only means having long term contracts that guarantee income for local farmers but also recognise the impact on other areas of agriculture providing straw to the Plant will have. That is why the straw supplied is excess farm straw or in addition to straw the farmers would otherwise grow. This helps minimise the impact on cost and supply to other areas of the agriculture industry.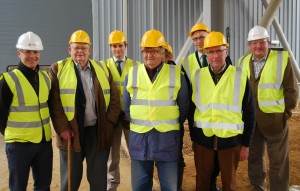 Article on NFU and Eco2 agree clarity on straw energy market http://www.nfuonline.com/science-environment/renewables/nfu-and-npa-hail-clarity-on-straw-energy-market/
Front: (From left to right) David McDonald, Operations Director, Richard Leggott – Local arable farmer from Boston area, Geoff Hotchkin – Sleaford arable member and chair of regional sugar forum, Colin Gray – Farmer member
Back - Guy Gagen, NFU Chief Adviser, Combinable Crops, Dr Ceris Jones, NFU Climate Change Adviser, Dr Jonathan Scurlock, NFU Chief Adviser, Renewable Energy and Climate Change, Andy Middleton, Biomass Portfolio Manager