Plant Commissioning Update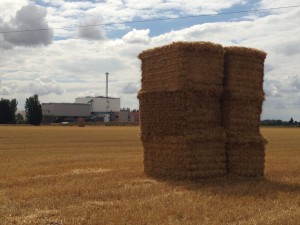 Test and commissioning is continuing at the Sleaford biomass plant. The next major event to commence shortly is the test on completion which are the precursor to commercial operations. The plant is now operating 24 hours a day and has been running up to full load (38.5MW) during the testing. The ramp up of operations during the testing and commissioning has proved the fuel supply and logistics system bringing in the straw bales from the fields and holding sites. The delivery to site has been trouble free with up to 35 deliveries a day of straw to the site.
At the plant the civil works to transform it from a construction site to an operational power plant are well underway, with planting of trees around the plant and landscaping works.
The EPC consortium and its subcontractors passed an major milestone during February with the achievement of over 365 days continuous activity with no lost time due to accidents. With over 300 people on site throughout most of 2013 this is an important achievement.
Overall completion of the plant remains well ahead of schedule.