Visit by Sleaford NFU Branch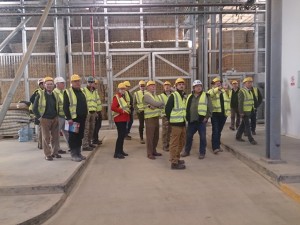 Members of the Sleaford branch of the National Farmers Union visited the Sleaford REP on Monday 10th March. There was a great turnout, with 18 local members attending the event.
Highlights of the visit included a presentation demonstrating the local benefits of the plant, and a walking tour of the site to illustrate some of the key features of the process, and the opportunity to become involved as fuel suppliers. As many local members supply or are involved in the supply of fuel to the Plant, Sleaford REP were keen for them to see what happens to the straw they supply.
Eco2's David McDonald, said:
"We were delighted to meet so many local members and have the opportunity to take them around the plant to see first-hand the scale and operations of the scheme. We look forward to                                                                                                                    continuing to work with the local NFU as we move into                                                                                                                      commercial operation."