Eco2 wins Sustainability Award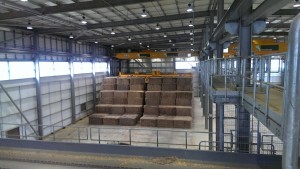 Eco2, the developers of the Sleaford Renewable Energy Plant, received the Sustainability Award at the Renewable Energy Association's (REA's) British Renewable Energy Awards 2014, held at The Savoy, in London, on Thursday 12th June.
Chief executive officer David Williams said:
"I am delighted to accept this award which recognises our pioneering approach to renewable energy generation.
"Biomass from straw is one of the few forms of energy that uses a genuine unused fuel as its feedstock to provide low-carbon and predictable energy.
"It's fantastic that the industry values our contribution to the renewable sector and recognises our commitment to sourcing sustainable domestic fuel for power generation."
He added: "The REA Awards is one of the most prestigious and well respected events in the renewables sector, so this is a huge honour."