New goal posts grant seals future for football club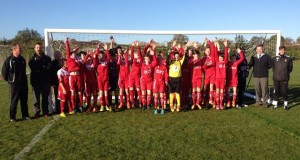 Sleaford REP Community Liason Panel members Councillor's Keith Dolby and Richard Wright were present at Eslaforde Park to witness the benefits of the Panel's latest local pledge.
The £2,000  donation has enabled the local Junior Football Club to purchase a set of new portable goal's which had become essential to maintain the continued progression within grassroots football.
Junior Club Chairman, Jason Butler expressed his gratitude to the Groups pledge and commented,
"We are perhaps more fortunate than some other local teams, however the ever expanding guidelines being introduced by the FA to help our young footballers develop is making it increasingly difficult for us to find the necessary funds and space to provide so many differant sized pitches and goals."
"As a club, we were faced with the real possibility of losing some of our teams and indeed those players from the local community. We have so many volunteers who invest their own time and effort, gaining qualifications and the like, to oversee the development of these keen footballers. Needless to say it would have been a sad state of affairs if these teams were forced to fold or move away."
"This wonderful donation has allowed Sleaford Town Junior Club to purchase a set of new portable goals so that we can pitch share a number of our Grassroots teams and encourage the growth of further teams for many years to come."
Sleaford Town Junior Football Club is an FA Charter Standard Community Club. For more information please email [email protected] or visit the clubs website at www.sleafordtownfc.co.uk
Other community groups are being urged by the Panel to come forward and apply for the annual £40,000 funding (for the next two years) which is being provided by Sleaford REP and administered by the Sleaford REP Community Liaison Panel. Funding applications can range from up to £1,000 or £1,001 - £20,000 for groups and organisations in either Sleaford Town Parish or Kirkby-La-Thorpe Parish. For more information about Sleaford REP Community Liaison Panel and to apply for funding please visit the dedicated Panel page on the Sleaford REP website – www.sleafordrep.co.uk
Pictured are Sleaford Town Junior FC Under 13 A's and B's their respective managers, Ian Barnshaw and David O'Neil, Club Chairman Jason Butler, together with local councillors Keith Dolby and Richard Wright.