Community Funding Grants from Sleaford REP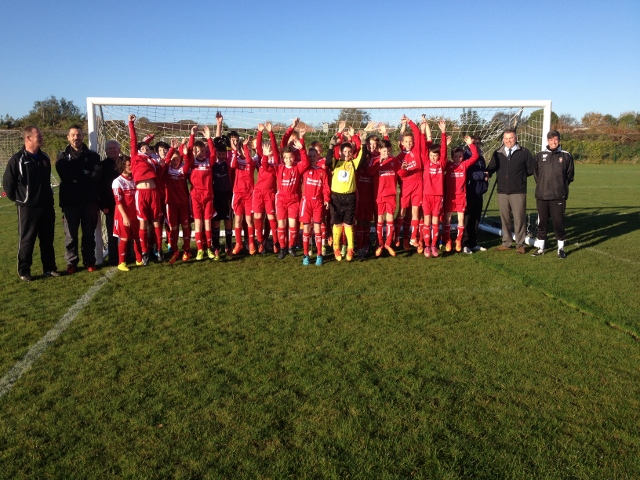 Pictured, Sleaford Town Junior Football Club thanking Liaison Panel Chairman (at the time) Cllr Richard Wright for its grant funding.
Community groups in Sleaford and Kirkby la Thorpe are encouraged to apply for what remains in a grant funding pot to support projects within the two parishes.
As part of its responsibilities, the Community Liaison Panel overseeing the Sleaford Renewable Energy Plant's package of community wellbeing measures, determines applications for the Community Fund.
The Community Fund is a dedicated pot of £120,000, spread across three years, with grant applications now being accepted for the third year.
There is £20,000 available for groups, organisations and schools in Sleaford and £60,000 for groups, organisations and schools in Kirkby la Thorpe parish.
Bids need to be made by September 14 in order for consideration at the October panel meeting.
The Community Liaison Panel is made up of representatives of North Kesteven District Council, Sleaford Town Council, Kirkby la Thorpe Parish Council and the Sleaford Renewable Energy Plant.
To date the Panel has awarded grants totalling more than £40,000 to 17 organisations based and operating in Sleaford or Kirkby La Thorpe.
These include:
-Heating for Sleaford Little Theatre
-Sponsorship for Sleaford Striders half marathon,
-Funding towards Sleaford Museum,
-A contribution towards the Zygote arts festival,
-Funding towards continuing services of The Sleaford and District Talking Newspaper,
-Beyond the Blues craft workshop,
-Tri3 triathlon club launch event,
-Composting toilets at Sleaford Town Council allotments,
-Sleaford Elite Gymnastics Club heating,
-Portable goals and nets for Sleaford Town Football Club,
-Sleaford Riverside Church riverbank work,
-Sleaford CAB digital suite,
-Sleaford Tennis Club Pavilion furnishing,
-Sleaford New Life Pre-school outdoor play equipment,
-Computer for 6th Sleaford Methodist Brownies,
-Additional music for Sleaford Concert Band.
Applications are considered during quarterly Sleaford REP Community Liaison Panel meetings; taking place on October 6; January 19, 2016; and April 5, 2016. Deadline for applications is around three weeks beforehand, on September 14, December 28 and March 4.
There is a quick form for applications of under £1,000 and more detailed information required for larger sums of up to £20,000.
Forms and detail at : www.sleafordrep.co.uk
Or contact: The Community Initiatives Team , NKDC
on 01529 308267, or 01529 308257,
or email [email protected]
Notes to editors:
The £120,000 Sleaford REP Community Fund is part of a broader range of community funding measures worth £285,000 being delivered and distributed by the Community Liaison Panel – all intended to enhance the economic and environmental sustainability of the area.
These include:
A £50,000 public art sculpture;
£10,000 to initiate an urban art trail linking Sleaford's public art and war memorials;
A £20,000 schools education programme promoting sustainability and understanding of the renewable energy plant's operation;
Finance of £75,000 to support five apprenticeships;
And; £10,000 to Kirkby la Thorpe primary school for interactive whiteboards.
Previous applicants of the Community Fund have given the following endorsements of the difference the fund has made to their projects:
"The funding from Sleaford REP has played a very important part in the delivery of our service in Sleaford Town and we thank you very much for your grant." – Home Start, Sleaford & District
"I am sure that this particular project will have a certain resonance with the operation of the plant and its determination to reach out to and support the local community." – Sleaford Town Council
We are delighted with the outcome of our application - please pass on our thanks to the Sleaford REP Board. – Sleaford & District Citizens Advice Bureau
"A great success; thank you and lots of members have now joined the Club. We have up to 30 attending the swim session one evening at the leisure centre, and full bike/run sessions. There is also a large group forming as a Club cycling group. All very positive." – Sleaford Tri3
"The workshop is going to be a huge asset to all, especially when the weather changes and the use of the garden is limited. New techniques and skills will be gained along with a sense of team work, confidence and  achievement." – Beyond the Blues
"This wonderful donation has allowed Sleaford Town Junior Football Club to purchase a set of new portable goals so that we can pitch share a number of our Grassroots teams and encourage the growth of further teams for many years to come." -– Sleaford Town Junior Football Club