Sleaford REP opens its doors to Interflora
Members of Interflora's Product and Supply team, which is based in Sleaford, last week visited the renewable power station to see how it uses straw and woodchip to generate renewable electricity for local homes and businesses, and how it supplies free heat to civic buildings in the town.
Zara Taylor, Senior Supply & Wholesale Manager at Interflora said: "The tour of the Sleaford plant was fascinating. It opened all our eyes about the complexities involved in a renewable energy process. It was so insightful, and we all came away buzzing with new knowledge and ideas for what we might do with our 'green waste'."
Jo Simpson, General Manager of Sleaford REP: "We welcome visits from local businesses and community groups to show how the power station operates, and for us to explain the economic and environmental benefits of our operations. It was great to meet the Interflora group."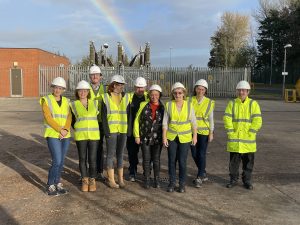 A guided tour of the plant takes approximately two hours.  We can host a maximum of 12 people at any one time (two groups on the one day), and each visitor must be able to walk unaided as there are stairs and gantries to deal with.  Health and safety are of paramount importance so we are sorry that children in Year 6 and below are not allowed to visit.  If you would like to register or want to know more, please contact Paul Taylor – [email protected] / 07966 782611.