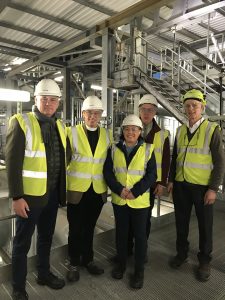 Between 2014 and 2019, we contributed  more than £285,000 to the local area, in order to enhance the local economy, local well-being and environmental sustainability. A diverse range of groups and organisations in Sleaford and Kirby-la-Thorpe received grants.  Given its success, we have established a new £125,000 community benefit fund – it's called the Sleaford REP Community Power Fund and it's kindly administered by North Kesteven District Council. 
Community Power Fund
The Community Power Fund  of £125,000 will support projects and organisations (not-for-profit) within a 5 mile radius  of the power plant.  The Fund will allocate £25,000 per annum over the next five years, and grant up to £5,000 per application in a single year.
A Community Power Fund Panel will consider applications on a quarterly basis. Representatives of the Sleaford Renewable Energy Plant, the local community and NKDC councillors are members of the Community Power Fund Panel (see photo).  Councillor Mervyn Head of NKDC chairs the seven person Panel.
For a project to be supported by the Community Power Fund, it must meet the following objectives:
Cover one of the following: the environment, sport, wellbeing and education.
Encourage community cohesion to build stronger communities.
Benefit the community/group by supporting activities and projects that bring wider community benefit.
Taking into account any parish that falls wholly or partly within the 5 mile radius, the locations eligible to apply for funding are Anwick, Asgarby & Howell, Ashby de la Launde, Aswarby & Swarby, Aunsby & Dembledy, Burton Pedwardine, Cranwell, Culverthorpe & Kelby, Dorrington, Ewerby & Evedon, Great Hale, Heckington, Helpringham, Kirkby la Thorpe, Leasingham & Roxholm, Little Hale, North Kyme, North Rauceby,  Osbournby, Ruskington, Scredington, Silk Willoughby, Sleaford, South Kyme, South Rauceby, Swaton, Threekingham and Wilsford.
For more information about the Fund, please visit: https://www.n-kesteven.gov.uk/residents/living-in-your-area/localism-your-community/community-funding/
or contact the Partnerships Team at North Kesteven District Council on 01529 414155 or email partnershipsteam@n-kesteven.gov.uk